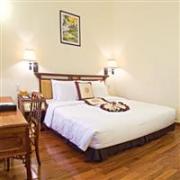 Save 20% off best available rates when you check in to the Rex Hotel in Ho Chi Minh City on a Saturday or Sunday. "Weekend Promotion" rates start from USD100 for a Deluxe Room plus a welcome fruit basket, buffet breakfast, internet use, a 50% discount on selected spa treatments, and a 20% discount on tours. This promotion is available until December 31, 2011.
Discounted rates for other room types are USD112 for a Junior Suite, USD132 for a Rex Suite, USD176 for a Governor Suite New Wing, and USD240 for an Executive Suite. All room rates are subject to 5% service charge and 10% local taxes. There are no additional charges for children under 12 sharing the existing bedding with their parents.
The Rex is a luxury heritage hotel and has been a landmark in downtown Ho Chi Minh City for over 80 years. The hotel offers 286 wings spread throughout its three wings. All room are spacious and outfitted with comfortable bedding, satellite TV, wireless internet access, and mini-bar. Facilities include a swimming pool, spa, fitness centre, casino, restaurants, and the Rex's famous rooftop garden bar.
Visit the Rex Hotel website at http://www.rexhotelvietnam.com/ for more information or to make an online booking. The hotel can also be contacted by calling (84) 8 38292185 or emailing rexhotel@rex.com.vn.