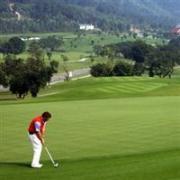 Enjoy special rates Monday, Wednesday, and Friday at Tam Dao Golf Course in the mountains outside of Hanoi. On Monday you can enjoy unlimited golf for USD35 including green fee and caddie fee. On Wednesday and Friday you can golf 18 holes for USD50 – for any additional holes you will only be charged the green fee. This is an on-going promotion and available until further notice.
These promotions are not valid on public holidays. The regular green fee for 18-holes is USD45 on weekdays and USD90 on weekends plus an additional USD20 caddie fee. Bookings for a tee time are required.
Designed and built by IMG, Tam Dao golf course is as challenging as it is scenic. The course winds through the mountains and there are many natural hazards and water traps. The golf course is located in the Tam Dao Mountains about 65 kilometers from downtown Hanoi and enjoys cool weather year-round.
For more information about Tam Dao Golf Course & Resort visit http://tamdaogolf.com. Bookings for a tee time can be made by completing the online form or calling (86) 02 11 3 896 554.