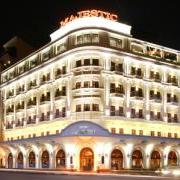 The Hotel Majestic Saigon is celebrating Lunar New Year with special rates from just USD138 per night and complimentary extras like buffet breakfast, wireless internet access, in-room beverages, and discounts on hotel services. This promotional rate is for single or double occupancy and is available from January 18 until February 28, 2011.
Guests who book 1 or 2 nights will be charged a rate of USD143 per night for a Colonial Deluxe Room with a view of the city or the pool. Guests who book 3 or more consecutive nights will receive a lower rate of USD138 per night plus a 10% discount on the mini-bar and a 20% discount on laundry services. All room rates are subject to 10% service charge and 5% local taxes.
The Hotel Majestic Saigon is an elegant colonial hotel that has been operating since 1925. The hotel is located beside the charming Saigon River and is within walking distance of many of Ho Chi Minh City's top sights like the Reunification Palace and Ben Thanh Market. The Colonial rooms feature a classic style and are well equipped with a mini-bar, safety deposit box, cable TV, and coffee/tea making facilities. Guests can enjoy many services at the hotel including fine dining, a health club, tours, and cooking classes.
For more information about the Hotel Majestic Saigon visit their website at http://www.majesticsaigon.com.vn. This promotion can be booked by emailing majestic@majesticsaigon.com.vn or calling (84) 8 3 829 5517. Reservations must be guaranteed with a credit card and are non-refundable.