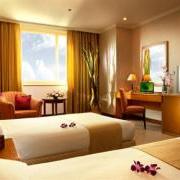 Book any room any day at the Windsor Plaza Hotel in Ho Chi Minh City and receive a 30% discount. After applying the discount, rates start from USD84 per night for a Deluxe Room. This promotion is available until the end of December and may be further extended.
The 30% discount promotion applies to all room types. A Deluxe Room is USD84 (regular price USD120), an Executive Class room is USD112 (regular price USD160), and a Junior Suite is USD133 (regular price USD190). Quoted rates are inclusive of service charge and taxes.
The Windsor Plaza is a 5-star hotel located in Ho Chi Minh City's central Cholon district. Its 405 rooms and suites are elegantly decorated and fitted with all the modern amenities including satellite TV, Internet access, mini-fridge, telephones, and a safe deposit box. Deluxe and Executive rooms are furnished with your choice of 2 twin or 1 king sized beds. As the Windsor Plaza is the tallest building in the neighborhood, the rooms have uninterrupted views of the city. Hotel facilities include a swimming pool, fitness centre, shopping plaza, restaurants, and a night club.
To receive the discounted price, the full amount must be prepaid at the time of booking. Changes are not permitted and the deposit is non-refundable. Promotional rates can be booked online at www.windsorplazahotel.com or by contacting the hotel at (84) 8 3 833 6688.