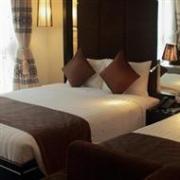 Book your stay at the Hanoi Moment Hotel online and enjoy promotional rates until December 31, 2011. Nightly rates are just USD50 for a Superior Room, USD60 for a Deluxe Room, and USD80 for a Family Room or a Junior Suite. Single occupancy rates are lower. Promotional prices include continental breakfast, fruit platter, internet access, and taxes. A service charge of 10% is additional.
Promotional single occupancy rates are USD40 for a Superior Room, USD50 for a Deluxe Room, and USD65 for a Family Room or Junior Suite. A down-payment of 30% is required to confirm bookings. Credit card payments are subject to a 3% surcharge.
The Hanoi Moment Hotel is a small, boutique hotel located in the heart of Hanoi's Old Quarter. The 16 guestrooms have a modern décor with hardwood floors, comfortable bedding, LCD TV with satellite channels, DVD player, mini-bar, coffee/tea making facilities, and an in-room laptop computer. The hotel has a restaurant and the friendly staff can arrange tours, currency exchange, and onward transportation.
Visit http://hanoimomenthotel.com/ for more information or to make an online booking. Hanoi Moment Hotel can be contacted by calling (84) 4 39233988 or emailing info@hanoimomenthotel.com.