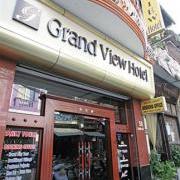 Take in the sights of Hanoi and Halong Bay as part of a 3 day/2 night package from just USD100 per person. The package includes 2 nights at the Grand View Hotel, transport to Halong Bay, a full-day tour, and selected meals.
The package begins with pick-up from the Hanoi airport and transfer to the Grand View Hotel in the city's famous Old Quarter. Day 2 begins with breakfast and then mini-van transfer to Halong Bay for a full-day tour. The activities include a 4 hour boat trip, sea kayaking, a visit to the Thien Cung and Dau Go caves, and then transportation back to Hanoi. The package includes daily buffet breakfast, lunch at Halong Bay, and return transportation to the airport if needed.
Prices are based on double occupancy and vary depending on the room type at the Grand View Hotel. Package rates are USD200 for a Standard Room, USD219 for a Superior Room, or USD228.50 for a Deluxe Room. For single occupancy, rates are USD138, USD157, and USD166.50 respectively. All quoted rates include service charge and taxes.
The Grand View Hotel is a friendly hotel with 35 rooms. All the modern amenities are provided including mini-bar, Internet access, and TV with satellite channels. The rooms are simple but stylish with hardwood furnishings, comfortable beds, and views of Hanoi's bustling Old Quarter.
The Halong Bay Package is available until December 31, 2011. Changes to the package are permitted until 4 days prior to check-in and there is no fee for cancellations made more than 7 days before the check-in date.
Bookings can be made online at http://www.grandviewhotel.vn/ or by emailing sales@grandviewhotel.vn.