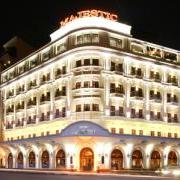 Receive a complimentary upgrade to a Colonial Room when you stay at the Hotel Majestic in Ho Chi Minh City. Rates start from USD169 per night including buffet breakfast, one-way airport transfer, internet access, and discounts on hotel services. This promotion requires a minimum stay of 2 nights and is available for stays until October 15, 2011.
The quoted price is based on single or double occupancy. An extra bed will be charged at USD50 per night. All room rates are subject to 5% service charge and 10% local taxes. This package includes a 20% discount on laundry services and 10% discount at the hotel restaurant, mini-bar, and on tour bookings.
The Hotel Majestic Saigon is an elegant colonial hotel that has been operating since 1925. The hotel is located beside the charming Saigon River and is within walking distance of many of Ho Chi Minh City's top sights like the Reunification Palace and Ben Thanh Market. Colonial rooms feature a classic style and are equipped with a mini-bar, safety deposit box, cable TV, and coffee/tea making facilities.
For more information about the Hotel Majestic Saigon visit their website at http://www.majesticsaigon.com.vn. This promotion can be booked by emailing majestic@majesticsaigon.com.vn or calling (84) 8 3 829 5517.