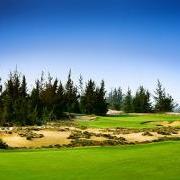 A new partnership of golf courses and beach resorts has led to the formation of the Vietnam Golf Coast in Danang. Danang is an up-and-coming seaport destination with an international airport that is connected to key cities such as Singapore and Guangzhou. With the establishment of the Vietnam Golf Coast consortium, it brings together world-class golf courses and resorts such as the Montgomerie Links Vietnam, the Danang Golf Club, the Nam Hai Resort and the Life Resort Danang.
Montgomerie Links Vietnam, designed by Colin Montgomerie, has been ranked at number 7 among Southeast Asia's golf courses. Danang Golf Club was designed by Greg Norman and opened in May 2010. The Nam Hai is an award-winning all-villa resort recognized as the best in all of Vietnam, while Life Resort Danang is the city's newest five-star resort. Bridging the golf courses and the beach resorts together is Golfasian Vietnam, the official tour operator of the Vietnam Golf Coast.
Flights into Danang connect via Hanoi and Ho Chi Minh City in addition to direct flights from Singapore and Guangzhou. Vietnam Airlines is set to commence charter flights to Danang from Hong Kong on 17 September 2010, with flights every Tuesday and Friday. Shanghai Airlines will also soon start a charter service twice a week from Shanghai. A new international airport in Danang will open in 2011.
Close to Danang are the UNESCO World Heritage Sites of Hoi An and Hue. Vietnam's central coast region is also an attractive destination for scuba divers and beach lovers.
For more information and booking, visit www.vietnamgolfcoast.com.