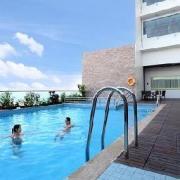 Book at least 21 days before arrival to enjoy great savings and complimentary breakfast at the beachfront Novotel Nha Trang hotel. With the "Early Breaks" promotion, rates start from just USD70 per night for a Standard Room with a complimentary buffet breakfast. This is an on-going promotion and is available until further notice.
This promotion is also available for other room types. Other nightly rates are USD84 for a Superior Room with your choice of 1 king or 2 twin beds and USD98 for a Deluxe Room with 1 king bed. All room rates are subject to 5% service charge and 10% local taxes. There is no additional charge for children under the age of 16 sharing the existing bedding with their parents.
The Novotel is a four-star hotel located in the heart of Nha Trang, a popular beach town in southern Vietnam. Each of the 154 rooms is spacious, comfortably furnished, and has a balcony with a stunning view of the South China Sea. Whether you're visiting for business or pleasure, the Novotel has all the facilities you could need including an outdoor swimming pool, international restaurant, bar, spa, and fully-equipped meeting rooms.
Reservations can be made online at http://www.novotel.com/gb/hotel-6033-novotel-nha-trang/. Any enquiries can be directed to rsvn@novotel-nhatrang.com or by calling (84)58/6256900. The "Early Breaks" promotion requires full pre-payment at the time of booking and no changes or refunds are permitted.