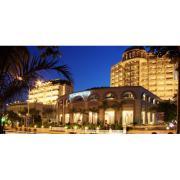 Stay for three nights at the Sunrise Nha Trang Beach Hotel and pay for only two nights, from now till 30 June 2010. This offer gets more attractive the longer you stay; you can stay for seven nights and pay for only five nights. The stay also includes daily buffet breakfast, complimentary pick up from the airport and a free bottle of wine upon check in. If you stay for seven nights, the hotel will also throw in a free set dinner (excluding beverages) on the fifth night of your stay.
Room rates for the Superior room start from USD125++ per night. Rooms come with a sea view and a private balcony, as well as fresh fruit and flowers. Each room can accommodate up to two adults and two children below the age of 12. Breakfast is priced at USD10++ per child per day.
Nha Trang is regarded as one of the world's most beautiful bays and is known for its pristine clear waters for scuba diving. The city is also an exporter of bird's nest, for an Oriental delicacy, bird's nest soup. The hotel is located close to the beach and the city of Nha Trang.
For reservation inquiries, email rsvn@sunrisenhatrang.com.vn or call (84-0) 58 3560535. Visit www.sunrisenhatrang.com.vn for more details.