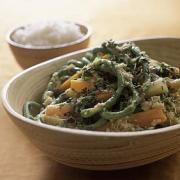 Learn how to prepare authentic Vietnamese cuisine at the Hanoi Cooking Centre. The centre offers hands-on classes led by chef Tracy Lister, author of a popular Vietnamese cookbook. Classes are available in the morning, afternoon, or evening and last approximately 3.5 hours. The fee is VND1,050,000 (USD50) per person and 6 different classes are offered, including a vegetarian option.
The cooking classes are "Hanioi and the Northern Highlands", "Food from the coast", "Vietnamese street food", "Vegan tofu cookery", "Spring rolls" and "BBQs and Salads". In each class participants will learn to make a number of different dishes. A full description for each class can be found on the website.
The Hanoi Cooking Centre is conveniently located on the edge of Hanoi's famous Old Quarter. The centre also has a café, retail outlet, and offers tours of street food vendors and traditional markets.
Visit the Hanoi Cooking Centre website at http://www.hanoicookingcentre.com/ for the current schedule of cooking classes. Bookings can be made on their website or by calling (84) 4 3715 0088.