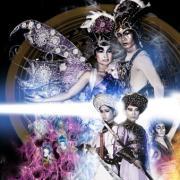 You can now buy tickets to the Xin Chao performance, one of Ho Chi Minh City's top tourist attractions, online. Tickets are priced at USD20 each and available through the performance group's official website. Xin Chao is a circus-like performance that brings traditional Vietnamese mythology to life through dance, music, martial arts, and acrobatics.
Xin Chao is performed every evening and the show runs approximately 90 minutes. Performances begin at 6:00pm Monday to Friday and 5:30pm on Saturday and Sunday. There is no assigned seating and doors open 30 minutes before show time. Tickets are USD20 per person and there are no hidden fees for online sales. Tickets can be printed and used at the door.
Xin Chao is a one of a kind experience with a cast of over 50 performers and a completely original score. The performance's three acts use traditional Vietnamese culture and folklore to explore universal themes like creation, love, war, and loyalty.
For more information about the Xin Chao performance or to book your tickets online, visit their official website at http://xinchaosaigon.com/. Tickets are also available at the box office from 12pm – 6pm or by calling (84) 8 3838 9005.