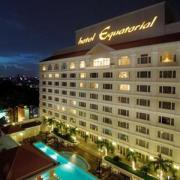 Hotel Equatorial is currently offering a "Business Achiever's Package" that pairs a night in a new Club Room with special benefits ideal for business travelers. The package includes luxurious accommodations, breakfast, internet, laundry, late check-out, and use of the Club Lounge and meeting room. Rates start from USD147 per night. This promotion is available until December 31, 2011.
The quoted rate of USD147 is for a Deluxe Club Room. This package is also available with an Executive Deluxe Club Room for USD161 per night or an Executive Suite for USD232 per night. All room rates are subject to 5% service charge and 10% local taxes. Guests booking this package have access to the Club Lounge with complimentary tea and coffee all day plus cocktails and canapés in the evening. One hour use of the meeting room and late check-out until 4:00pm are subject to availability.
Hotel Equatorial is a five-star business class hotel located in the center of Ho Chi Minh City. The hotel offers 333 luxuriously-appointed guestrooms and suites plus a full range of facilities including a swimming pool, fitness center, spa, and seven food and beverage outlets.
For more information about Hotel Equatorial visit their website at http://www.equatorial.com/hcm/. Reservations can be made online, by emailing info@hcm.equatorial.com, or by calling (84) 8 3839 7777.